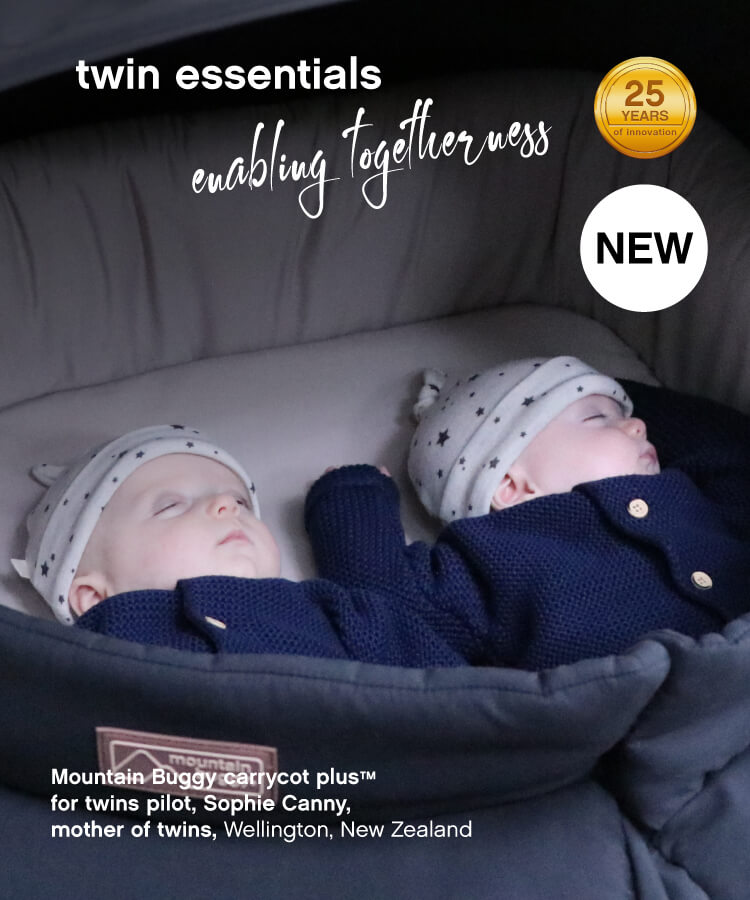 you're having twins - congratulations
Here at Mountain Buggy, we know just how special twins are - making up just 4% of global births. Being parents ourselves, we can imagine the thoughts that may be running through your mind: how am I going to leave the house with two? Will I need two of everything? How much is it all going to cost?We've curated a collection of products designed specifically with twins in mind. Here are our most frequently asked questions from parents expecting twins; with our advice to ensure you've got all the essentials you need to begin your journey with two in confidence.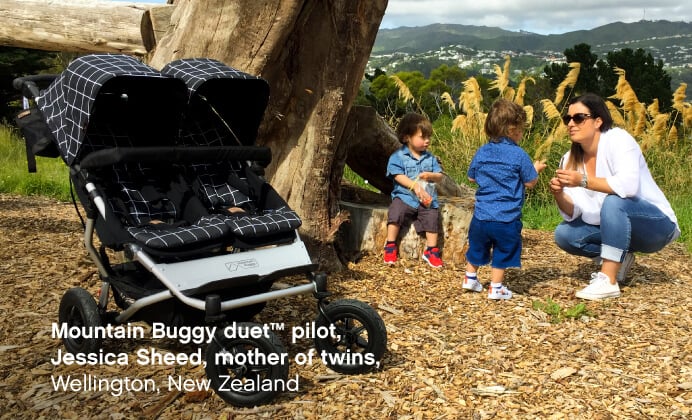 Which double buggy will be best for our family?
When choosing a double buggy for twins, ask yourself - what is going to best suit your family's lifestyle… how often will you use public transport? How often do you want to use your buggy off road? Do you need a buggy that'll take up limited space in the house or in the car?
We have two incredible side-by-side buggies that are just perfect for twins:duet™ is our multi award winning, compact side-by-side; ideal for families that love the freedom of all terrain, but desire a double buggy that takes up the same footprint as a single buggy. shop duet™ nano duo™ is our incredibly light side-by side that's incredibly easy to manoeuvre around, and is super compact when folded - beating any double, rickety umbrella stroller out there. nano duo™ is also built off our Red Dot award winning, compact buggy nano™.
shop nano duo™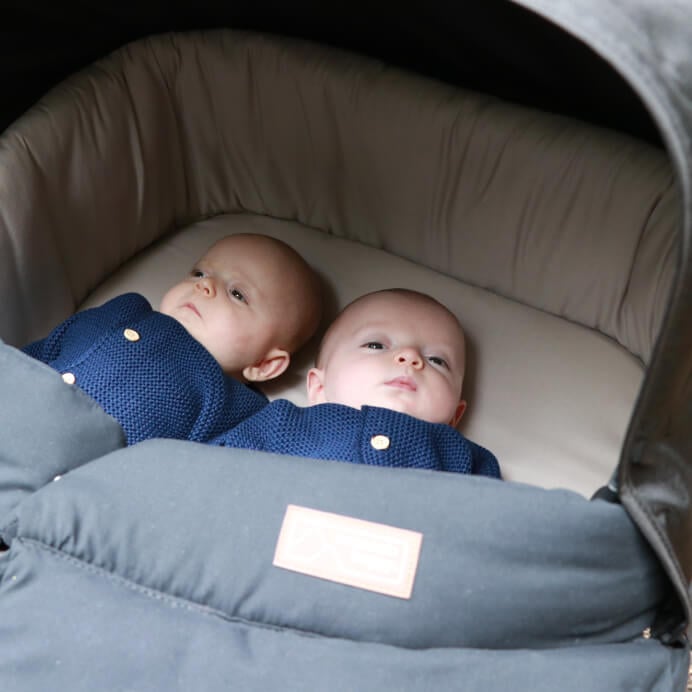 carrycot plus™ for twins
carrycot plus™ for twins is a fully featured, double sized carrycot to take two; providing a safe and cosy environment where your twins can bond and lie close together. It also delivers longevity so you can use this product longer than any other carrycot out there in market, with its unique ability to convert into a parent facing seat for twins, allowing up to 15kg per seat. This is compatible with duet™ and duet™ as a single.
shop carrycot plus™ for twins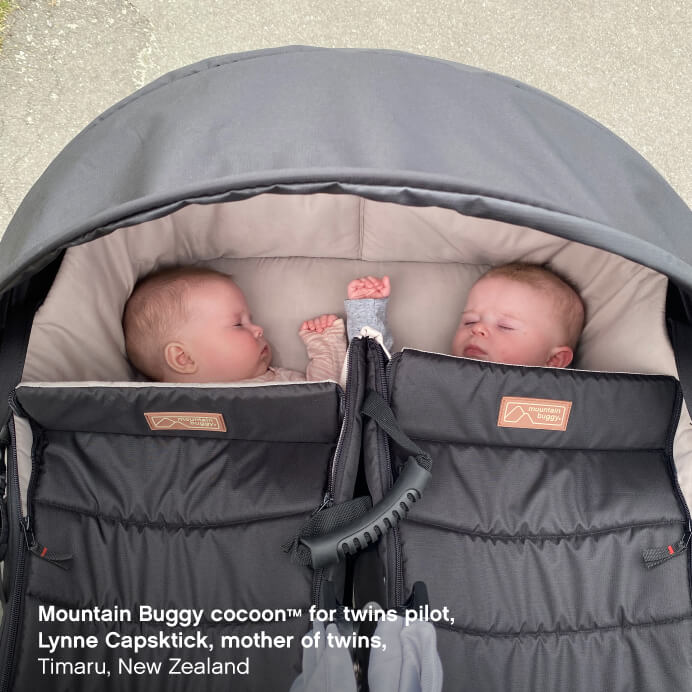 cocoon™ for twins
cocoon™ for twins is one double sized, yet lightweight bed to take two; providing a safe and cosy environment where twins can continue their unique bond and lie close together. Perfect for parents wanting a lie-flat solution at a thoughtful price point. This is compatible with nano duo™, duet™ and duet™ as a single.
shop cocoon™ for twins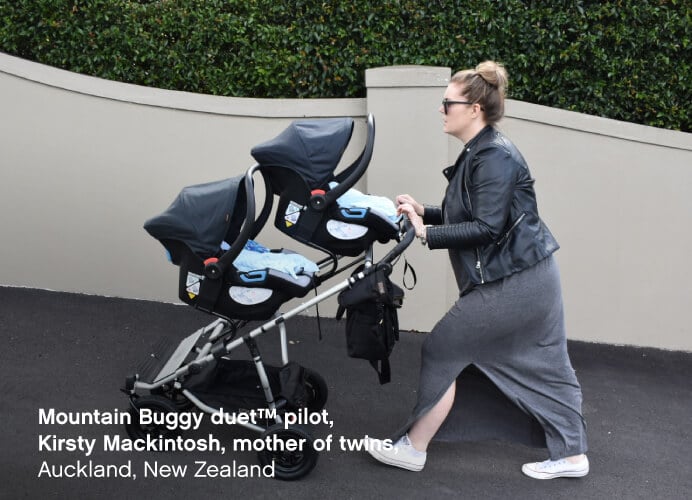 What is a twin travel system and why is it a must have?
A twin travel system is a double buggy and an infant car seat set that are connected by a car seat adaptor.
A travel system will make little adventures with your twins effortless - with minimal disturbance to their rest, while keeping them safe and secure when moving them from car to buggy and back again.
shop twin car seat adaptors
What do I need to keep my twins cosy and comfortable?
At Mountain Buggy, it's our number one priority to enable parents to live their life without limit - no matter what the weather.
We've designed a thoughtful collection of essentials to ensure families can venture out all year round; allowing them to get outside in all seasons in comfort.
shop twin essentials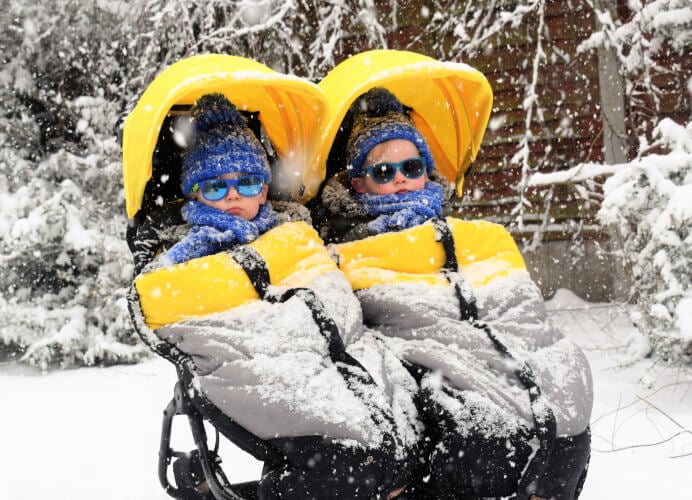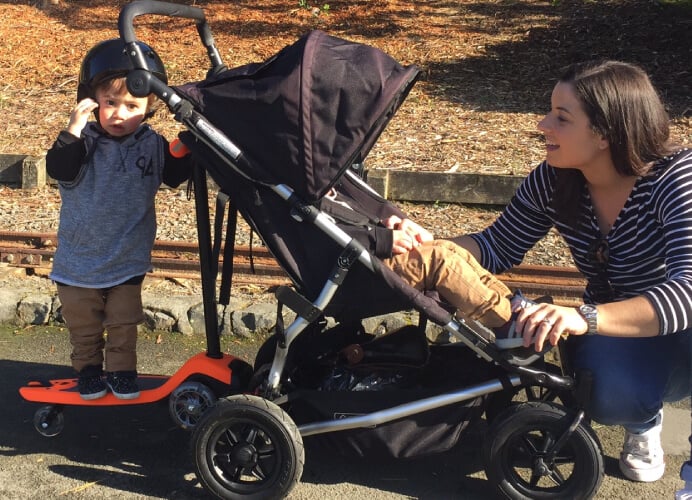 Our twins have an older sibling - how can all of us get from A to B without the stress?
We've seen many parents of multiple children struggle with pushing their children in the buggy, while their older sibling is getting tired too on the outing, and in need to rest their tired little legs.
freerider™ is an ideal and fun way to venture out with your toddler AND twins. This unique product offers dual functionality - as a standalone scooter, that can also transform into a stroller board by attaching to your buggy in seconds. A great solution for when your toddler gets tired from scooting or walking when out and about.
shop freerider™